A focused, students only space—on your terms
Our community bolsters growth mindset while creating meaningful relationships in a focused, students-only space. Your students self identify with the characteristics and topics that matter to them, then connect, share, and reflect—all on your terms.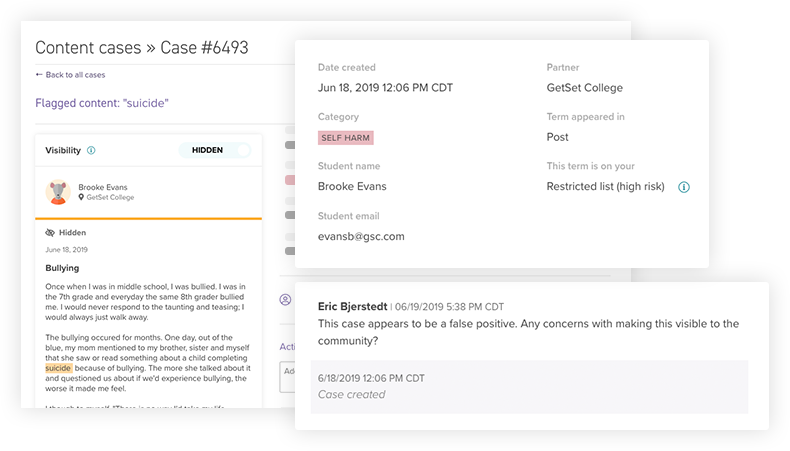 A powerful metacognitive skill development framework is at the heart of our community, influencing students to model themselves after successful peers and strengthening their resilience.

Your GetSet Student Community can be private or global. In a private community, students only have access to the posts and comments from students at their school. The Global Community provides more opportunities to learn by connecting with students across the country.

GetSet fosters engagement and connections with game mechanics. These motivational techniques fulfill essential human desires like achievement, recognition, self expression, competition, purpose, and altruism.
Content monitoring
Our forward thinking, secure technology monitors and manages potential safety risks.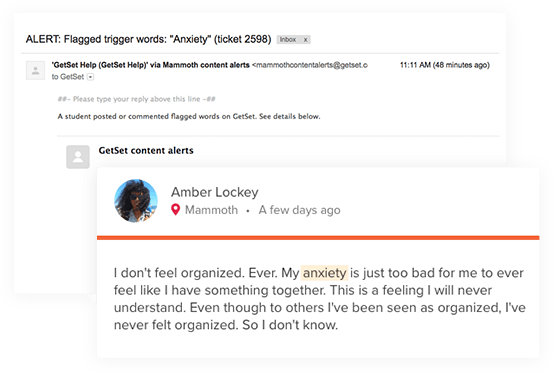 We automatically filter out harmful and hateful language. You'll receive instant alerts when students try to use restricted language—including how it was used and information about the author.

Add terms to your "watch list" at any time. Customize terms you'd like to keep an eye on and we'll make sure you know everytime a student mentions them.
Research based methods
We employ research based methods for fostering growth mindset, resilience, grit, and self-regulation to set all students up for success, regardless of their circumstances.
Peer behavior modeling at scale. Modeling the successful behavior of relatable peers fosters a sense of belonging and academic tenacity. Thousands of success stories give your students the knowledge that they, too, can conquer the obstacles that lie between them and graduation.

GetSet develops your students' tenacity. We guide them to focus on effort and hard work through daily prompts developed in collaboration with behavioral psychology professionals. Techniques like reflection foster agency and draw students into empowering conversations.

Our recommendation engine brings students together. We'll suggest peer connections so everyone gets the support they're seeking. Whether they need better time management, support in tough classes, or LGBTQ resources, they'll know they belong here.

Authentic conversations. Real connections. On GetSet, students find something that many have never had: an invitation to share their experiences, priorities, and aspirations with a community of peers who want to hear their voice. Students open up in an ever evolving conversation about what matters to them and their school community right now.