Positive peer influence inspires success

Your GetSet student community can be private or global. In a private community, students only have access to the posts and comments from students at their school. The Global Community provides students with more opportunities to learn from students across the country.
Modeling the successful behavior of relatable peers fosters a sense of belonging and academic tenacity. GetSet delivers impactful, influential peer advice at scale, connecting thousands of students with thousands of solutions from successful classmates.
Students post authentic stories

about the real life obstacles they face every day—and how they overcome them—to help their classmates in similar situations.

GetSet develops your students' growth mindset

by guiding them to focus on effort and hard work through techniques developed in collaboration with behavioral psychology professionals.

Our recommendation engine connects students

with the peer support they need to face whatever they're worried about—from time management and tough classes to social belonging and LGBTQ resources.

Seeing how a relatable peer overcame adversity empowers students

with the knowledge that they, too, can conquer the obstacles that lie between them and graduation.
Game mechanics
GetSet uses game mechanics to foster engagement and growth in the student community. Game mechanics are the frameworks of incentives and feedback that form the foundation of games. They are effective motivational techniques because they fulfill essential human desires like achievement, recognition, self expression, competition, purpose, and altruism.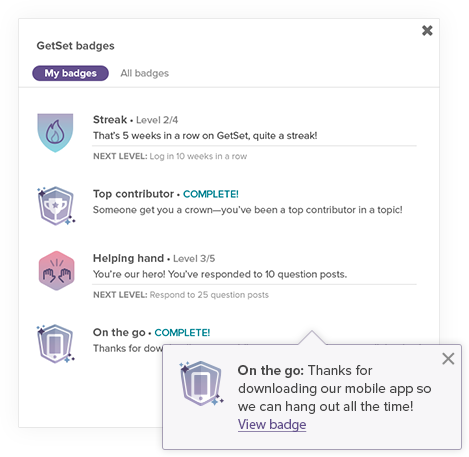 In-app rewards give users direction, so there's always something to do next.

We incentivize behaviors that increase resilience, like connecting with peers and sharing advice.

GetSet matches students' mental models of social apps they're already familiar with: earning rewards, unlocking new levels, and displaying their accomplishments on their profiles. This means students catch on quickly.
Customized for your students by your students
GetSet offers an opportunity many students have never had: an invitation to share their experiences, priorities, and aspirations with a community of students who want to hear their voice. Students define and continually refine the conversation to focus on what matters to them and their school community right now.
Students elaborate and adapt the conversation on GetSet based on current events, the academic calendar, and what's happening in their lives.

Students see what topics are trending at their school, follow topics they care about, and connect with students for advice.

Every student has the opportunity to open a dialog about the issue that matters most to them—and find other students who care, too.
"I think this tool is a fantastic way to give someone that little bit of extra encouragement they may need. It helps to see that you are not the only one who is struggling with what you are going through." - Jennifer B, student
Content monitoring for a safe, secure community
No school wants to suffer the damage to students, culture, and reputation caused by an unsafe situation. Our forward thinking approach addresses these concerns, while maintaining a thriving online community, with secure technology and tools for monitoring and managing potential safety risks.
GetSet is a secure, private community that uses tools like single sign on (SSO) to ensure that only active students can access your school's GetSet community.

We automatically filter out harmful language and alert school staff of potential safety risks. Students can also report content they find offensive or abusive.

You customize your content alerts based on your existing policies and practices, so everything flows smoothly into your established processes.