Know your students better than ever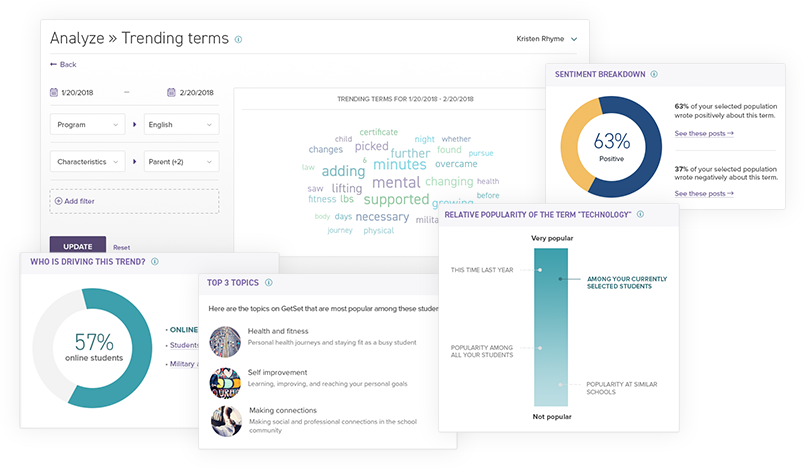 Limited time and resources don't always allow you to uncover the details of each individual student's situation. Insight offers on demand access to vivid qualitative data about your students so you can know them better than ever.
Learn from the authentic conversations that happen when your students feel safe opening up to their peers.

Interact more effectively with your students with the information you find in their rich GetSet profiles.

Gain a new level of empathy by putting faces and stories to names and numbers, even for those who don't have daily contact with students.
Analyze trends
Students open up on GetSet, sharing honest insecurities, ambitions, and experiences. Our analytics sort through these student interactions to give you on the fly qualitative content exploration on trending terms and how they're being used across all of GetSet.
Slice, dice, and segment to the specific date range, campus, and majors you want to learn more about.

Sentiment analysis helps you learn not just when something's being talked about, but more importantly, how it's being talked about.

See who's really driving the trends by breaking out subpopulations like transfer students and parents.

Expand your understanding of your students as we guide you to follow a trend from one cross section to a campus, cohort, or population with something in common.
"Insight lets you connect with your students more because you learn more about them." - Patrick, advisor